Shake, Rattle, and Roll: The History of the Ramos Gin Fizz
THE RAMOS GIN FIZZ
What's the quickest way to start your evening off with a sizzle? Why, with a Ramos Gin Fizz!  Here in New Orleans, the Ramos Gin Fizz is a cocktail we are all too familiar with, but for most people around the United States it's a bit of a mystery.  That's because this Big Easy staple is rarely or barely served beyond our city lines. Why, you may ask, well let's explore the answer to that very question as we delve into the cocktail's past.
Cocktail Basics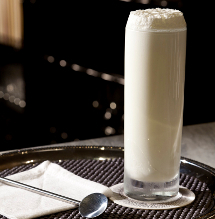 To start with the simplest information, the Ramos Gin Fizz is a cocktail invented in New Orleans that combines several ingredients to create a product with citrusy, sweet, and creamy flavors.  It is a complex drink, most often made up of gin, heavy cream, both lemon and lime juice, simple syrup, club soda, orange blossom water, and egg whites.  Some bartenders also like to include vanilla to soften the drink's variety of flavors.  The egg whites, when shaken with the cocktail's full ingredients stiffen to create a frothy texture and a foamy head.  Many of the cocktail's fans compare it to a piña colada minus the coconut and with an added kick of bright citrus sourness.
A Teetotaler Named Henry C. Ramos
           In perhaps the most ironic twist in New Orleans cocktail history, the Ramos Gin Fizz was invented by a bar owner who actually was not a fan of drinking: Mr. Henry C. Ramos, known to his friends as Carl.  Ramos, originally born in Indiana, began his career in a beer saloon, called Exchange Alley, and worked the alcohol circuit in Baton Rouge for several years before deciding to invest in his own property in New Orleans with his brother as a partner.  The pair purchased the Imperial Cabinet in 1887, a bar located on Gravier Street in what is now the Central Business District.
           Ramos was widely respected in the community and was considered to be a gentleman of the highest quality; he ran his bar to reflect this.  He closed his bar every evening at the decent hour of 8 o'clock to discourage all-night drinking binges and was open for a mere two hours on Sunday afternoons and only then because the community begged it.  The Imperial Cabinet was upheld to strict standards of temperance and morality, accepting only the most well-behaved of clientele. Ramos was known to spend his time conversing with his patrons in order to keep an eye out for anyone who was toeing the line of tipsy.  He hated drunkenness and ensured that any unruly patrons were pointed out to the bartenders so that no further drinks would be served.  The 1928 New Orleans Item-Tribune states that "nobody could get drunk at the Ramos bar, not only because old Henry wouldn't let them, but because drunkenness would take away their appreciation of the drinks."
           It was in this culture of quality over quantity that the Ramos Gin Fizz was created by Ramos himself in 1888.  Originally called the 'New Orleans Fizz', the drink became an immediate hit and the Imperial Cabinet became busier than ever.  Ramos's original recipe included a sprinkling of powdered sugar and stipulated that the cocktail must be shaken for 12 minutes before serving, quite the undertaking for any skinny-armed bartender.  Because of the rigorous shaking needed and the popularity of the drink, Ramos had up to 20 bartenders working at any given time.  These gin fizz makers were called 'shaker boys' and often rotated in relay lines to share the burden of shaking the cocktail.  The drink became so popular that during the Mardi Gras season of 1915 it was said Ramos had to employ 35 bartenders just to keep up with the number of New Orleans Fizzes ordered.
           Ramos was said to have served his last gin fizz at midnight on October 27th 1919 as he became an avid supporter of Prohibition and firmly closed the doors of the Imperial Cabinet.  Even after leaving the alcohol business, Ramos guarded the cocktail's recipe up until his death, revealing it to the New Orleans Item-Tribune only days before he passed in 1928.  He included in his recipe that "the secret in success lies in the good care you take and in your patience, and be certain to use good material."
The Post-Ramos, Ramos Gin Fizz
           Following the repeal of Prohibition, the Ramos Gin Fizz resumed its ascension towards New Orleans' favorite cocktail.  In 1935 the Roosevelt Hotel's Sazerac Bar bought the rights to the drink's name, a purchased that fueled the false rumor that the Ramos Gin Fizz was invented there.  It was, however, at this bar that Louisiana's very own governor, Huey P. Long fell in love with the cocktail.  Long loved the cocktail so much that he used to bring one of the Roosevelt's bartenders, named Sam Guarino, on business trips with him so that he never had to be without the New Orleans cocktail.  In fact, on a business trip to New York City in 1935 Huey P. Long had Guarino teach the bartenders at the New Yorker Hotel how to make the cocktail and called it his 'gift to New York.'
           Despite Long taking the drink beyond New Orleans' borders, the Ramos Gin Fizz hasn't gained much traction outside the city due to its labor intensive creation and extensive and complex ingredient list. Despite this, many bars around the Big Easy still make this classic cocktail, the most recognizable being the Sazerac Bar of course, and the Carousel Bar.  So grab yourself a sip of a Ramos Gin Fizz and enjoy a drink that should always be shaken, not stirred.